Ashe County is one of North Carolina's best kept secrets. Like most areas of Appalachia, it boasts cool summers, rolling hills, glistening mountain streams, and a low population density. Talk about the perfect getaway retreat! This county is undoubtedly one of the top places in the Eastern United States to escape from the hustle and bustle of day-to-day life and truly experience nature in all of its tranquil, peaceful glory. Whether you're planning your next family vacation or considering relocating and finding your forever home, you might want to keep Ashe County, North Carolina in mind! Let's take a look at why the locals consider this the "coolest corner" of North Carolina.
History of Ashe County
It is believed that the original inhabitants of the Ashe County region included various Native American tribes. Among them were the Cherokee, Creek, and Shawnee, as evidenced by archaeological relics in the form of broken pottery and arrowheads. Unfortunately, there does not exist much concrete information beyond this regarding Ashe County's roots before the 18th century. Yet from that obscurity, much history has been created moving forward.
Early Settlers
The earliest documented Europeans that explored the Ashe County region included a gentleman named Augustus Gottlieb Spangenberg. He was considered the head of the Moravian Church in America in the late 1760s to early 1770s, and he wore the title of "Bishop". He brought with him many companions, and he documented quite a bit of his journey throughout Ashe County. Interesting fact: this diary remains preserved by the Moravian Church!
Among other early settlers outside of Moravian presence included William Walling, David Helton, and the famous pioneer, Daniel Boone. While Boone became moreso a passerby and did not lay permanent roots in the Ashe County region, his presence did leave an impact to the extent that a town in a neighboring county, Watauga, was named after him!
Formal Recognition
During the 1780s, the region of Ashe County was considered to be a part of the "State of Franklin", which was an unrecognized territory within modern Eastern Tennessee. It was comprised of three counties, Sullivan, Washington, and Green. Ashe County's territory fell under the umbrella of Washington County at that time, but as populations grew and regional markers were laid, Ashe County formally became a part of North Carolina in 1785. However, it wasn't until 1799 that Ashe was pronounced an official US county. It was formally given its name in honor of Samuel Ashe. Samuel was a superior court judge, Revolutionary patriot, and Governor of North Carolina between the years 1795 to 1798. The honor of a county named after him was well deserved, we'd say!
Modern Appeal of Ashe County
Ashe County's history is rooted in some obscurity, but also quite a lot of tangible hard work, struggle, and determination. These traits and qualities remain embedded in the ancestors that prevailed in the region and spearheaded the growth and development of the economy. While hunting, trapping, and farming were the focal sources of commerce for its early citizens, Ashe County's appeal grew as individuals sought a quieter life that wasn't too far removed from modern convenience. Farming took a slow decline and other industries arose, such as food and byproduct manufacturing like the Ashe County Cheese plant or Phoenix Chair Manufacturing Company of the 1930s. This blue collar presence lingers, although tourism has more recently taken a foothold as a monumental source of revenue for the county as a whole.
If you drive through Ashe County today, you will immediately be met with the vibe of a traditional mountain community. The values and traditions that have been passed along from generation to generation remain apparent, in spite of the increase in transience related to the growing presence of tourism, vacation culture, and a booming real estate market. No matter which town you frequent in the county, you will be met with engaging smiles, southern charm, and wholesome warmth. Newcomers and locals alike will receive the same invitation to explore and be a part of Ashe County's promising future! Read on to learn more about the whimsy and charm that is packed in many of the county's towns. Some offer more modern convenience than others, but one thing remains consistent. They all feel like home.
Towns to Visit in Ashe County
While North Carolina's state neighbors, Virginia and Tennessee, hold ample cozy spots for settling down and laying roots, one thing is for sure. There truly isn't much out there that is quite like life in the High Country and Blue Ridge Mountains of NC! When it comes to the ideal source of small-town, country living, Ashe County holds many of the best options in northwest North Carolina. Although it is exceedingly challenging to isolate favorites (since they all pack their own level of allure and opportunity), here are a few of the best towns to visit or call home in the county.
West Jefferson, NC
It may come as no surprise to longstanding inhabitants of North Carolina that West Jefferson is generally considered one of the top spots for vacation destinations in the High Country! Why is this? Well to put it simply, West Jefferson genuinely feels like the quintessential picture of laid-back American life. One trip to the town, and you'll likely be sourcing out real estate options for yourself! But to be more specific, West Jefferson truly brings to life the idea of a cool mountain town. Due to its phenomenal location within the resplendent Blue Ridge Mountains, you'll be blown away by the spectacular landscape.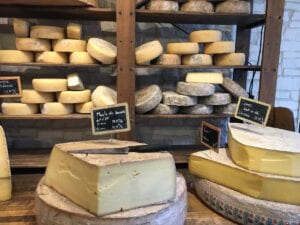 If outdoor escapades hold no appeal for you, this town still has a lot to offer. There exists a vast surfeit of entertainment venues in West Jefferson. As you meander through the buzzing downtown district, you will be met with an array of antique shops, art galleries, tasty cafes, and piquant meal options. Any member of the family can find something fun in West Jefferson! A frequent choice for wholesome family fun is the Ashe County Cheese factory and store at 106 E. Main Street in West Jefferson. Fun fact: for the longest time, West Jefferson maintained the honor and distinction of having the only cheese factory within the southeastern United States. While this is no longer the case, Ashe County Cheese still remains a definitive part of the town experience. Pop in to purchase some delectable cheeses made in-house, as well as locally sourced wines, old-fashioned candies, and souvenirs. Further, you can schedule a tour to observe the process of cheese making! With so much to offer, is it any wonder that this venue has lasted almost as long as the county, itself?
For a deeper look at the town as a whole, check out our more exhaustive guide on West Jefferson, North Carolina. Get ready for the trip of a lifetime! There is so much to see and do, that you'll probably want to make a second trip.
Creston, NC
Creston, North Carolina is an endearing unincorporated community worthy of having on your radar. Whether you're in the market for buying land and building your dream home from scratch, or you're simply looking for a scenic drive—this is a place you won't want to miss. With a convenient location only 30 minutes from Watauga County's favored, expanding town of Boone, Creston is a wonderful spot to lay roots. You'll be able to experience the solitude and serenity of nature, without having to sacrifice access to nearby amenities. So next time you're in Ashe County, make sure you carve out some time to behold the majesty and peace of Creston.
Todd, NC
Another tiny, unincorporated location, Todd comfortably straddles the county lines of both Watauga and Ashe Counties. Much like its fellow Ashe County sister townships, Todd is an exceptionally genial and welcoming community. Its population is meager and barely spills over 2,000 individuals, but if genuine rural living has your name on it, Todd beckons you!
Contrary to initial perceptions, this small NC town isn't entirely without entertainment options. Todd offers a handful of quaint shops that double as area landmarks, in addition to being home to a magnificent natural preserve. This natural area is Elk Knob State Park, and you can find yourself enveloped by its surrounding beauty at 9549, 5564 Meat Camp Road in Todd. A cool fact about Elk Knob State Park is that it features the second highest peak in the county (Elk Knob). This park is accessible all year round, so lace up your hiking boots, throw the harness on Fido, and set your sights on this outstanding opportunity for recreational family fun!
Crumpler, NC
We can't say enough about the cozy, small towns and unincorporated communities of Ashe County. And Crumpler is absolutely no exception! If you're already in the West Jefferson area, you'll be pleased to know that Crumpler, NC is a stone's throw away and a modest 20 minute drive from West Jefferson's downtown area. And what a beautiful drive it is, to say the least! Another remarkable destination when it comes to escaping the city life for a more rural atmosphere, Crumpler has so much to offer for outdoor lovers. If you've got the kiddos in tow and are looking for an opportunity to get your feet wet (literally and figuratively), you'll want to check out Riverside Canoe and Tube Rental at 2966 Garvey Bridge Road in Crumpler. It'll be a kayaking or canoeing experience that the entire family will remember.
Discover What Ashe County Has to Offer
The High Country of North Carolina is a deservedly beloved portion of the state. Due to its surplus of year-round opportunities for outdoor and indoor adventure, it is no wonder that distant onlookers are now wanting to carve out their own nook here. Especially in Ashe County, itself! Whether you stumbled upon the area on a whim when planning a mountain getaway or if you've lived in North Carolina for years and finally feel ready to build your dream home along the picturesque mountainside⁠—there has never been a better time to scout out the real estate opportunities available.
Are you ready to feel the mountain breeze against your skin as you soak up the warmth of the countryside sun? Stop dreaming, and turn your ambitions for the perfect home into a reality with Regency Properties. We are the Ashe County real estate experts. Our team believes in total transparency and building trust, so you can count on us to satisfy all of your realty needs. Located at 204 E. Main Street (conveniently right beside the Ashe County Cheese factory and store), we have the team and the tools to set you up for success in perusing your ideal realty options! Regency Properties is a full service real estate agency, so no matter your goals, we can help.
Regardless of whether you're looking to build a house, buy a house currently available on the market, or perhaps even start your own business through a commercial endeavor, Regency Properties has the knowledge and experience to guide you. Why wait any longer? Get in touch with the Ashe County realty experts at Regency today! Give us a call at 336-246-2307 or send us an email at info@regencyproper1.wpengine.com. We can't wait to be a part of the next chapter of your journey. And what better place for that chapter to unfold than Ashe County? Don't delay. For the best full service realty experience in the county, choose Regency Properties today. Our agents look forward to working with you!
Choose Regency for Your Ashe County Needs