Whether you enjoy perusing an art gallery, farmers market or historic cheese factory, West Jefferson has something for you! This quintessential small town is full of fun and interesting things to do – especially for the whole family!
Things To Do in West Jefferson NC
Nestled in the stunning Blue Ridge Mountains, the town of West Jefferson is full of opportunities to explore the great outdoors. From nature preserves and hiking trails to kayaking down the nearby New River, there are plenty of places to get lost in nature. But if you're looking for more ways to fill up an afternoon, check out some of these awesome attractions!
Arts District
When you first stop into West Jefferson, you may notice a number of beautiful murals adorning the sides of downtown businesses. That's because art is celebrated in this town, as evidenced by the numerous art galleries and studios that feature local and regional artists work.
The Ashe Arts Center, which is also located in downtown West Jefferson's Art District, houses a gallery that offers a large exhibition space to showcase a variety of artwork. The gallery shop is stocked with arts and crafts, and a number of concerts, special events, fundraisers, craft fairs and speakers are hosted in the center throughout the year.
During the summer months, gallery crawls are held on the second Friday of the month from June through October, and again on the first Friday of December. For three hours, guests are encouraged to stroll the streets of downtown West Jefferson and visit the 15 galleries that participate in these monthly crawls. Peruse a plethora of sculptures, artwork, pottery, photographs and other handmade items.
Over 15 murals are also displayed downtown and were designed by local artists to reflect the area's history and unique mountain character. A walking tour is available with information on each mural contained in a map you can pick up at the Ashe Arts Center.
Ashe County Cheese Factory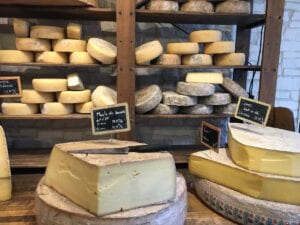 Wisconsin may be the first place you think of when talking about cheese heads, but those who live in West Jefferson know that any cheese lover has taken a tour of the historic Ashe County Cheese Factory. Started in 1930 by the Kraft Corporation, Ashe County Cheese consolidated several small community cheese plants located throughout West Jefferson and the surrounding areas. Kraft provided the means to distribute these cheese products nationwide.
Ironically, the factory is currently owned by Mike Everhart and Tom Torkelson, owners of the Wisconsin Corporation. Torkelson is especially renowned for his expertise in cheese and has won many national and international awards for his cheeses. In 2007, he was awarded the distinction of Wisconsin Master Cheesemaker.
With a rich history spanning over 75 years, there is plenty to see at Ashe County Cheese. And there's even more to buy! Their specialty shop is full of cheesy delicacies, including spreads, bricks, wheels, slices and gift boxes.
Ashe Famers Market
For locally grown produce, handmade crafts and a delightful mix of local honey, jams, jellies, maple syrup and more, visit the Ashe County Farmers Market. If you're seeing green, it's most likely because the market offers a wide array of leafy vegetables, including arugula, kale, collards, spinach and lettuce. Or shop their specialty items, like gourmet goat cheeses, pimento peppers, shiitake mushrooms and a rainbow of multi-colored beets, carrots and more.
If you're looking for plants over produce, you're also in luck. The Farmers Market also boasts a variety of blooms for any bouquet – including dahlias, sunflowers, day lilies and other perennials and annuals that will brighten any home or patio.
You'll also find cuts of all-natural beef and pork raised by local farmers. Fresh trout and pastured poultry are also available, as are farm fresh eggs!
In addition to fresh food and gourmet goodies, the Farmers Market also offers a variety of handmade artisan crafts. Shop for anything from soy candles and jewelry to vegan soaps, quilts, paper crafts and bird houses.
The Ashe County Farmers Market is always fresh, and always local. Stop by at 108 Backstreet in West Jefferson. The market is open every Saturday – rain or shine! – during market season from 8 a.m. to noon. Shop 'til you drop between April and October.
Calling West Jefferson Home
Although the Arts District, cheese factory and farmers market are great ways to spend the day, there's so much more to explore in West Jefferson! If you're ready to call this charming town home, contact the realty experts at Regency Properties. We can get you in a home that is just steps away from the farmers market. Or maybe you'd like to be in the heart of the downtown arts district. No matter what you're after, the expert realtors at Regency can get you the best price for your dream home. Contact us today!