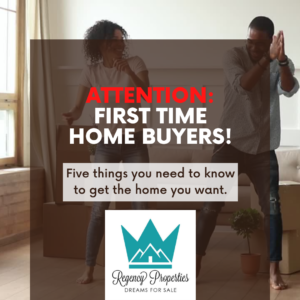 As a first time home buyer, the search for a home can seem a bit overwhelming. At Regency Properties we believe it doesn't have to be. After all, this is your first home ever – you should look back on this moment and smile! As long as you take the right measures to prepare, the process can be quite seamless and enjoyable. With a few helpful tips, you can avoid common mistakes made by first-time home buyers!
1. Start saving early – The time to save is now! Don't wait until you find your dream home. Saving early is important to help cover expenses throughout the home buying process. A few costs to consider before buying a home include down payment, home inspections, closing costs, deposits, appraisals, and moving expenses. Building your savings now can also help prepare for costs incurred after move-in such as decorating, unplanned maintenance or repair costs. Ways to save may include: allocating a percentage or dollar amount of each paycheck to a savings account, setting aside work bonuses as well as tax refunds, and cutting costs in other areas of current spending. Your future self will thank you if you start saving for your dream home now!
2. Build your credit – Along with your income, your credit score and credit report are key factors that can make or break your home buying plans. These items display financial health, habits, and balances. Lenders use these to determine the interest rates and loan terms of which they approve. More than likely, the better your credit, the lower your interest rate will be. Avoiding common mistakes can put yourself in a better position to own a home. If you have plans to buy a home, avoid opening new accounts or building debt during the approval process – this shows your stability and will improve your chances of being approved to own a home. Keep your credit balance low, pay your bills on time, and make sure to adjust your habits in order to get the best rate possible!
3. Have a proper home inspection – A quality home inspection is critical to ensuring your potential new home is worth the money you're paying for it. The home will be inspected and any safety hazards or issues to be repaired will be discovered. Inspections certify quality, safety, and proper maintenance of homes, even if they seem to be perfect beforehand. If the inspection reveals issues that were not previously disclosed, try negotiating with the seller to fix the problem, provide funds for the repair, or discount the selling price. If you or the seller aren't willing to fix the problem before closing, you may be eligible to cancel your purchase offer and receive your deposit back within a select time period.
4. Work with a trusted real estate agent – An experienced real estate agent may be the difference between achieving your second option or winning your dream home to start your dream life. A good agent will search the market for opportunities that meet your best interest and will represent you as the buyer. When choosing a trusted agent, ask other recent home buyers and friends for recommendations in your area. Keep an eye out for great communication skills, personal touch, and expertise in the current market. Ask how much experience they have with first time home buyers as well as their plan to help you – you want to ensure they will meet your needs throughout the negotiating and closing process and get your offer accepted! An experienced agent will help you vet neighborhoods, schedule tours, handle contracts, and much more.
5. Vet neighborhoods –  Your experience as a homeowner can be determined strictly by your neighbors, neighborhood, or surrounding areas. Before searching for a new home, be sure to research factors such as acreage available, nearby amenities, crime rate, school quality and more. Distance to and from work, scenic areas, grocery, entertainment, etc is very important to consider too. When you do find a home you like, make sure to explore the area! Talk to new people, experience new activities, and get involved in your new community! Get excited about your new home!
Thankfully with a few helpful tips, your first time buying a home can be a simple and exciting journey. When you finally find a home you love, it's important that nothing holds you back from fresh beginnings and the start to your dream life. Finding a trusted real estate agent will make the process more seamless than you knew was possible and will set you up for future success. It is also important to scope out the environment you're interested in and eventually get to know your new home on a deeper level.
Ask Us A Question!
Get in touch with one of our first time home buyer experts?